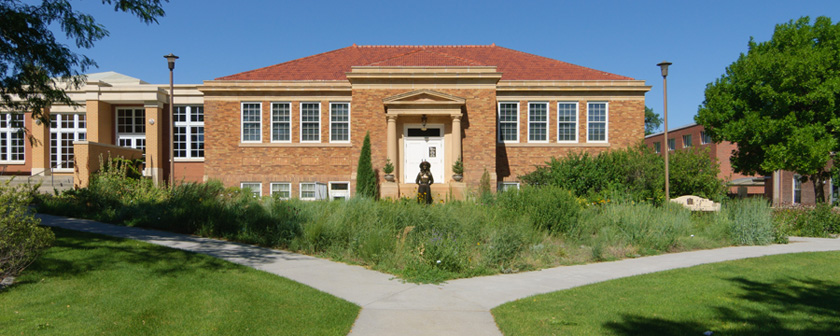 Tours and Group Information:
Guided tours are only available upon request.
Tours can be tailored to your group's interests and learning objectives. We also offer a variety of on-site activities for any age group relating to our permanent and temporary exhibitions. Our most popular activities include "cattle" herding, buffalo "hide" painting, and seed collecting in our gardens. We have also created custom activities based on Mari Sandoz's books. The Center does not charge for tours or activities.
We recommend one hour for tours and approximately 30 minutes for each activity. Times for tours and activities will vary based on group size and ages of participants.
The Center works closely with the Eleanor Barbour Cook Museum of Geology, the Chadron State College Planetarium, and the High Plains Herbarium to help groups coordinate a whole day on the Campus of Chadron State College.
Bus/Van parking is available at no charge near the Center. Drop-off/Pick-up locations are available at the Center. Depending on the Center schedule, the Center may have space available – indoors and outdoors – for groups to have sack-lunches. Catering is available, but must be arranged at least two weeks in advance of the visit.
We ask that you please request your tour and activities at least five days in advance.
If you would like to make a reservation for a group or if you would like more information about what the Center has to offer your group, please call us at 308-432-6401.
Maps and Directions
Chadron State College is located about 290 miles north of Denver, Colo., and 100 miles south of Rapid City, S.D. U.S. Highways 20 and 385 intersect in Chadron.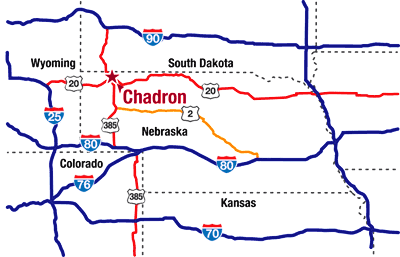 Photo Policy
Flash photography is not allowed in any of the museum's galleries. Photography may not be allowed in special exhibitions galleries. Please ask a staff member if you have a question.
Professional photographers are asked to contact the museum before photographing in the museum: (308) 432-6401.