Research and Collections
The Center serves as a repository for a variety of collections and materials related to the Great Plains and High Plains region. The Center's holdings include the collections of the Mari Sandoz Heritage Society, which has loaned its expansive collection of Sandoz materials for the exhibits and archives.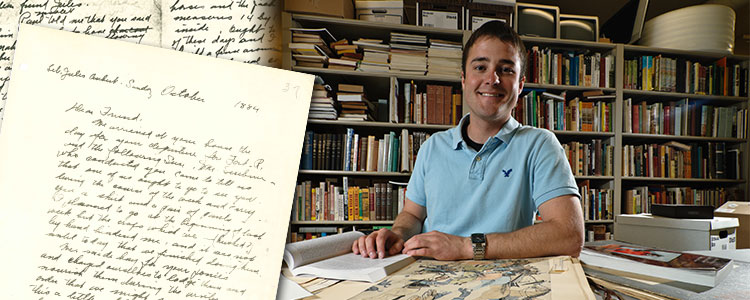 ---
Archives
Mari Sandoz Manuscripts

Slogum House
Miss Morissa
Over 90 Short Works — including unpublished — Please contact Center for titles

Audio

"Voices of History" — Oral History project in 1970s of local residents, includes Jules Sandoz, Jr.
Mari Sandoz sound recordings

Correspondence Collections — Being processed
Scholarly works written about the work of Mari Sandoz — Please contact Center for titles
Oral History Interviews of local and regional ranching families collected through the C.F. Coffee Gallery
Papers from other individuals

James F. Carr
Donald Green
Objects
Native-American collection — small in scope
Personal Effects of Mari Sandoz' New York Apartments

Textiles
Household goods
Misc.

Fine Art

Bad Heart Bull, Amos
Forsyth, Mary Bryan
Halsmann, Phillipe
Kirsch, Dwight
Lundeen, George
Red Elk, Greg
Tipton, David
Watson, Kit
Library
The Center's library collections focus on the Trans-Missouri West, with strong emphasis on the High Plains Region. There are currently over 6,000 titles in the Center's collections.
Periodicals – various including Nebraska History Magazine
Nebraska Cattleman – various years and editions
Microfilmed copies of the Mari Sandoz materials available at the University of Nebraska- Lincoln
Photographs
150+ images of Mari Sandoz

Various Photographers - including Phillipe Halsmann and Dwight Kirsch
Various locations - Sandhills homestead, Lincoln, Wisconsin, New York, Colorado
Events - Awards ceremonies, book signings

Sandoz Family
Macumber Family
Ray and Faye Graves Photographic Studio Collection
David Tipton Collection - Sandhills photographs
Dwight Kirsch Collection - landscape photographs
Kira Gale Collection
Center Collections
The Center and the organizations for which it holds collections have been actively collecting materials for over forty years. Listed below are the collections currently held by the Center.
Please note that inclusion in this list does not necessarily mean that the materials have been processed. Finding aids are available for those papers and collections that have been processed. Researchers interested in collection without an online finding aid may contact the Center Director to inquire about an inventory. Researchers should note that access to collections require a minimum of two business days advanced notice. The list of collections are arranged alphabetically.
Key to the Table Headings:
Title: Name of the collection and, where possible, the date range of its contents.
Collection Number: This is the "call number" used to identify each individual collection.
Size: Listed in linear feet.
Physical Description: Number and type of containers housing the collection. Paige boxes (abbreviation: P.) are large archival containers and Hollinger boxes (Holl.) are smaller containers of varying size. Other abbreviations: envelopes (env.), oversized (OS), and manuscripts (MSS).
Processed: Indicates whether collection has been arranged for researcher use. Unprocessed collections can still be viewed, but may be disorganized.
Finding Aid: Additional forms of description such as contents lists, registers, preliminary inventories (pre inv.), or individual folder listings may exist for each collection. Online finding aids are available here.
Restriction: A restricted collection is not open for research due to student, employee, university, or other privacy restrictions.
| Title | Number | Size | Physical Description | Processed | Finding Aid | Restriction |
| --- | --- | --- | --- | --- | --- | --- |
| Alliance Public Library Collection | ACC# | 0.23 | Books | Y | pre-inv | N |
| Arthur Vetter Collection | 2000-67 | 6.15 | Archival | N | pre inv | N |
| Barbara Marcy Collection | | | Books, Objects | | | |
| Bill Ramm Collection | | | Books | | | |
| Blanche Sandoz Collection | | | Archival Books Objects | | | |
| Bob and Jeanette Marshall Collection | | | Books | | | |
| C. F. Coffee Gallery Collection | | | Archival, Books, Objects, Oral History, Photographs | | | |
| Caroline Sandoz Pifer Collection of Mari Sandoz Materials | 1997.001 | | Archival, Books, Objects, Photographs | Yes | Y | Y – Selections |
| Cartwright-Drueke High Plains Collection | | | Books | | | |
| Chadron State College Collection | | | Archival, Books, Objects, Photographs | | | |
| Claire Mattern Western Literature Collection | | | Archival, Books, Objects, Photographs | | | |
| Coffee Family Collection | | | | | | |
| Cottier-Fish Collection | | | | | | |
| Ray and Faye Graves Photographic Studio Collection | | | Photographs | | | |
| Rolland Dewing Collection of Wounded Knee II Materials | | | Audio Recordings and Archives | | Y | N |
| Don Green Collection | | | Archives | | | |
| Ron Hull Collection | | | Mari Sandoz Heritage Society Archives | | | |
| Judy McDonald Collection | | | Mari Sandoz Heritage Society Archives | | | |
| Mari Sandoz Room in Gordon | | | Archives, Photos | | | |
| Madrid Collection | | | Photographs | | | |
| Fred W. Ferrar Collection | | | Photographs | | | |
| Ronald Speer Collection | | | Oral History, Photographs, | | | |
| Chadron State College Permanent Art Collection | | | Objects, Archives | | | |
| Dr. Samuel Rankin Presidential Papers | | | Archives | | | |
Choose question